Your kitchen has seen it all! That midnight temptation of cooking noodles, days when you made an entire breakfast in 5 minutes because you were getting late, and when you had to make do with just some coffee.
We know it can be quite tempting to procrastinate on cleaning the kitchen. But imagine this: you come back home wanting to cook a delicious recipe you found on Instagram, but your sink is filled with dirty pots and pans. Or you are going to heat something in the oven, but the moment you open it, there's a weird smell coming from it. These experiences are quite frustrating.
But even more frustrating is spending hours cleaning the kitchen because you didn't get it done for days on end. Worry not! Here's a step-by-step guide that will make your kitchen spotless in no time.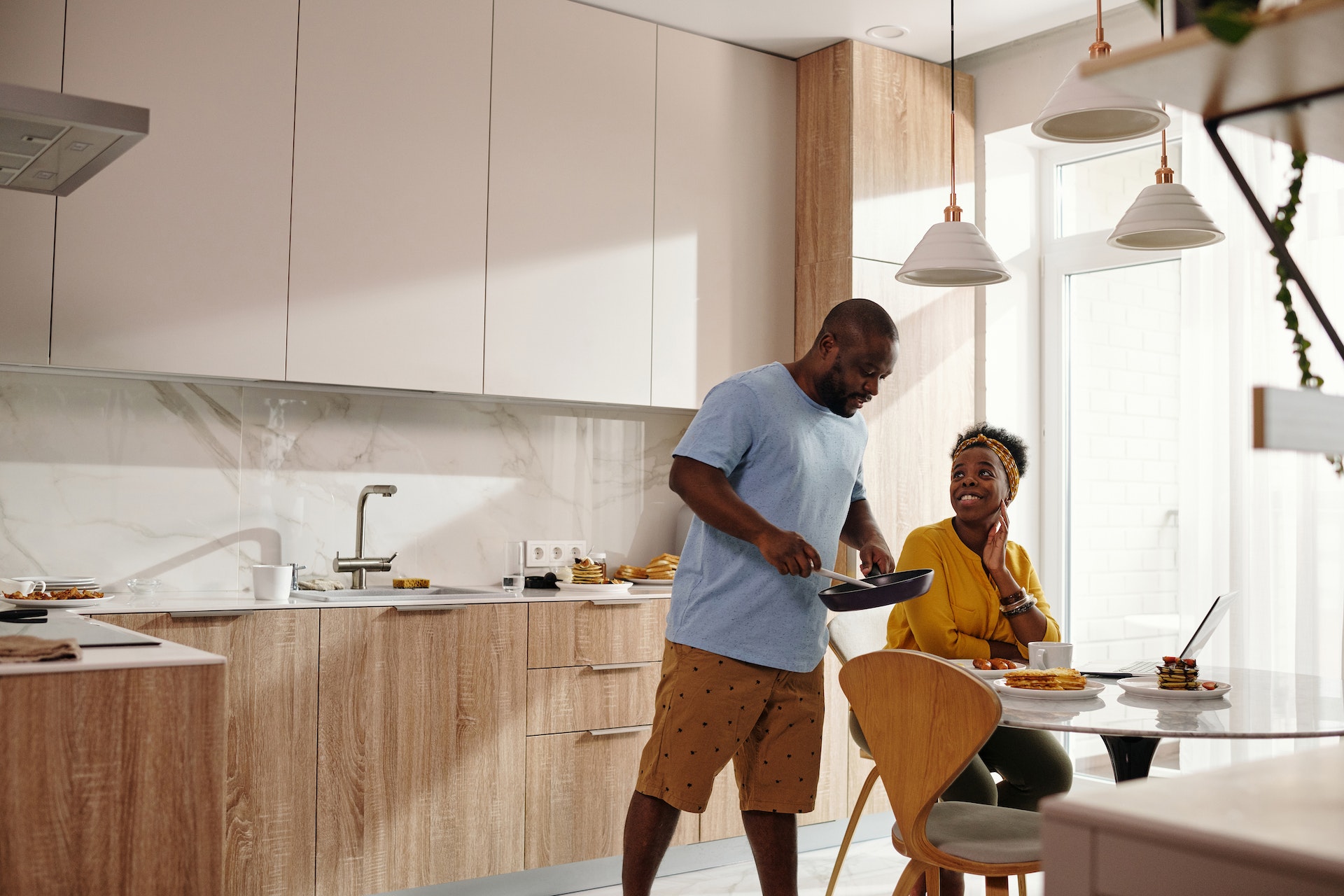 Make use of the right tools
Having the right tools on hand can make your cleaning routine easier. Here's a tools checklist you can keep handy.
Sponge and brush
Dish soap
White vinegar
Baking soda
Multipurpose cleaner
Broom and dustpan
Mop
Spray bottle
Paper towels
Kitchen cleaning: A step-by-step guide
These simple steps will help you clean your kitchen effectively, that too in just a couple of hours. Let's get started.
Make your sink shine
While your sink helps clean everything, it's one of the dirtiest places in your home that can breed germs. Here are three ways you can keep it clean and sparkling:
Before you go to bed, fill the sink with hot water and add a few squirts of dish soap. Let it stay overnight or for 15 minutes, and then rinse.
Mix one ounce of bleach, one-half quart of water, and a teaspoon of dish soap. Spritz it all over your sink to sanitize it. Let it sit for five minutes, then scrub it with a brush. Clean afterward with hot water. Do this once in 2-3 days.
To deep clean, use a scrubbing cleanser and brush out your faucets, sponge holders, and soap dishes. Rinse everything. You can follow it up by filling the sink with hot water and adding bleach. Let it sit for 10 minutes and then drain.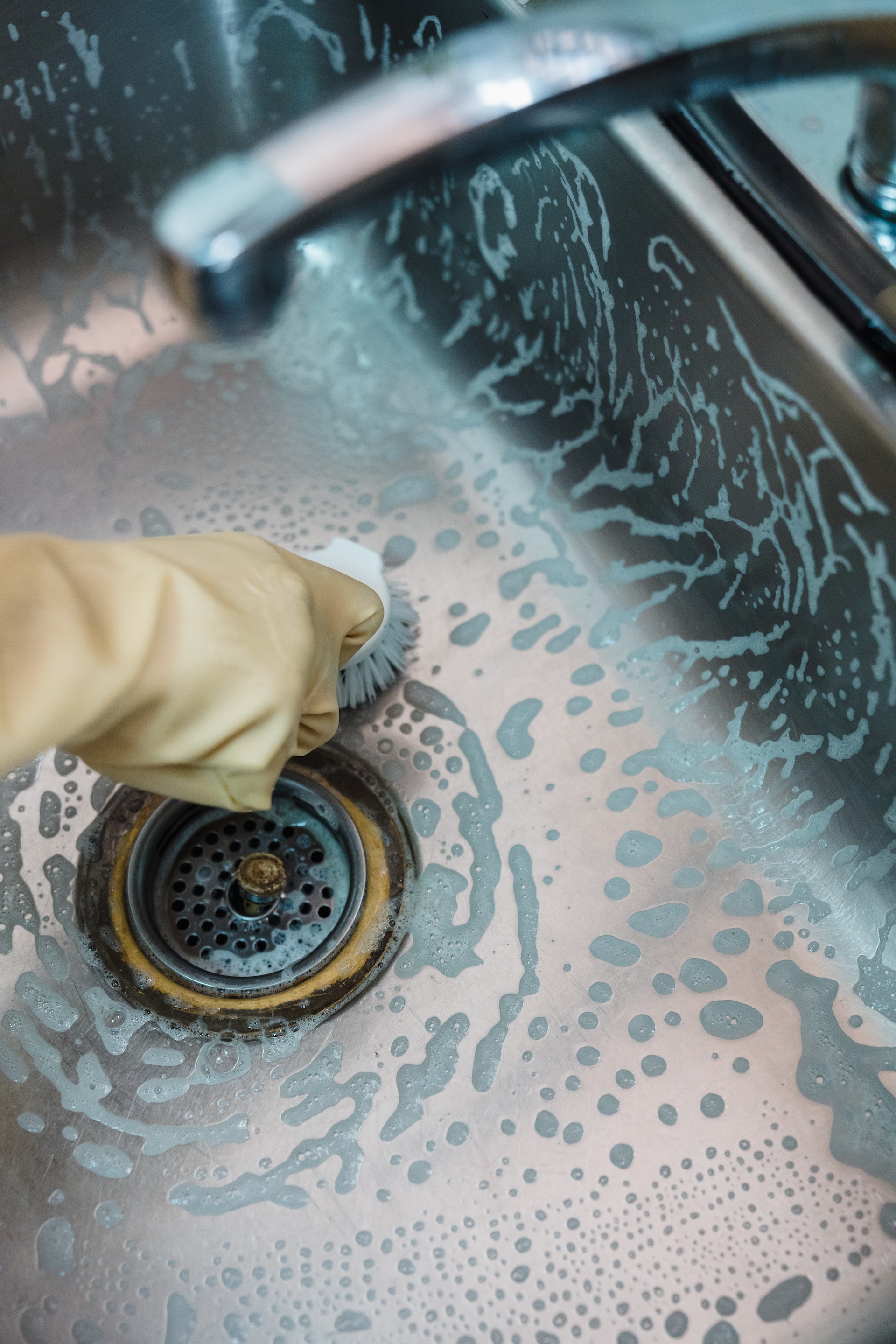 Clean the refrigerator
Did you know that the normal temperature of our refrigerators makes them hospitable for germs and fungal mold? A reason why you should pay serious attention to your refrigerator. Here's how:
Go through the shelves and remove anything that has expired or gone stale
Wipe the shelves and if you have stuck food and discoloration, sprinkle some baking soda and scrub it.
Spray the interior with a mixture of water, distilled vinegar, and dish soap.
If you want to deep clean, remove everything if you have removable shelves and drawers. Soak them in warm, soapy water and then rinse. You can even clean underneath and behind the refrigerator and clean the condenser.
Clear the grease from stoves
Your stovetops can get greasy really fast. But to clean it effectively without damaging the surface, you need to know the type of surface and then follow one of these cleaning methods:
For an electric stove top, wipe it with warm, soapy water.
For glass stove tops, remove the grills (and clean them if they are greasy), and use a special sponge that does not lead to scratches. Wipe it with an all-purpose cleaner.
For gas stove tops and burner grates, use one cup of white vinegar, two cups of water, and one tablespoon of soap.
You can use a toothbrush and a paste of baking soda and water if the stains are tough to remove.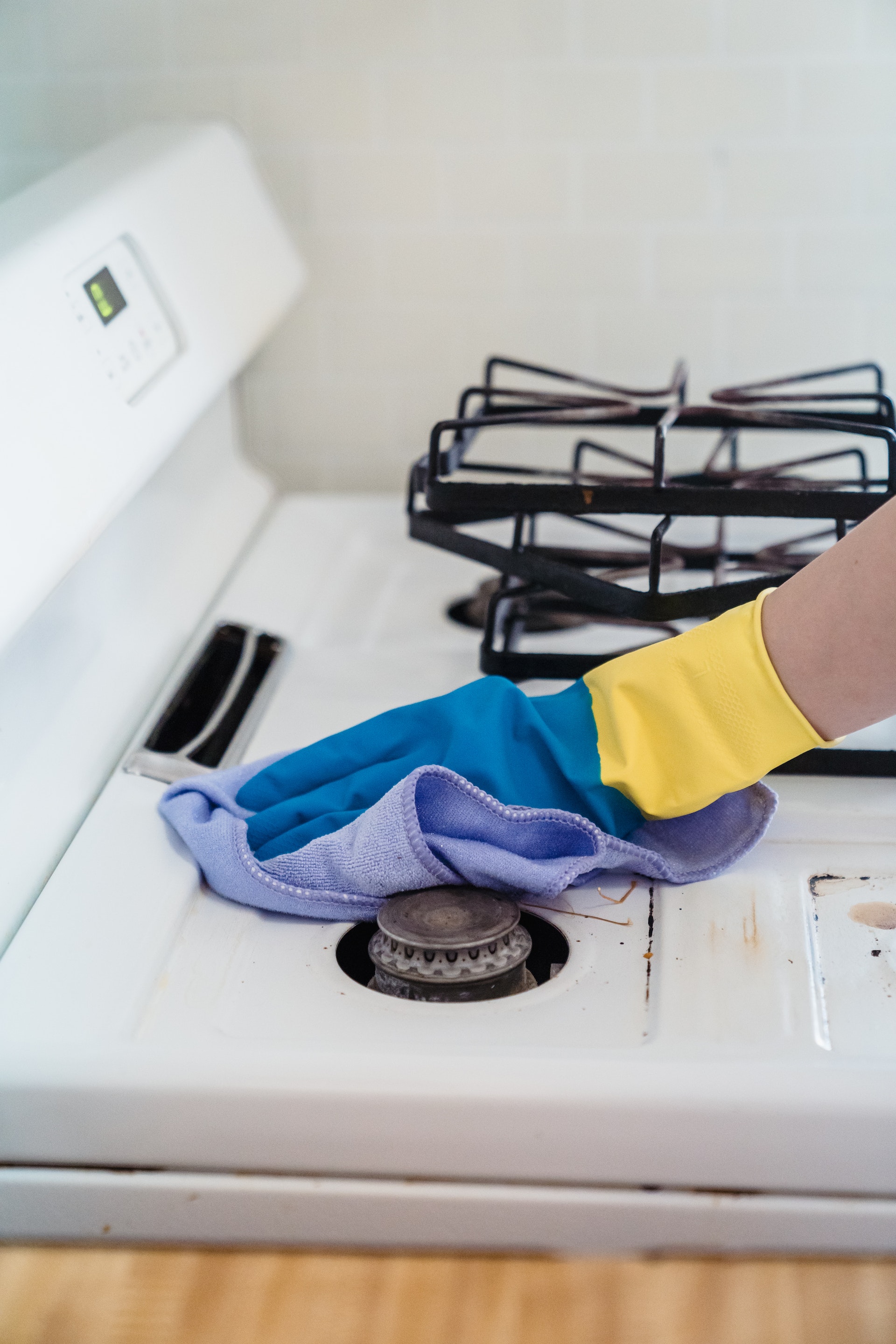 Clean all small appliances
Whether it's your coffeemaker, oven, toast maker, or stand mixer, you need to clean all these small appliances from time to time before they get too dirty. You can start by cleaning the interiors and picking out the debris like crumbs from toasters. Then use a microfiber cloth and dishwasher soap or vinegar to clean the appliance. (Make sure you don't use vinegar on stainless steel, as it can take away the shine) Clean out the exterior once you're done cleaning the inside.
Clean the buildup from your dishwasher
If you have dirty dishes or utensils in your dishwasher, start running the dishwasher before cleaning it. To ensure that your dishwasher runs effectively, clean the filter at the bottom by scrubbing it with a brush and rinsing it with warm water. Also, clean the shelves and handles in the dishwasher and once you're done, wipe the door gasket and exterior with a damp cloth. If you're in a hurry, you can even let the dishwasher run on an empty cycle with a cup of distilled vinegar.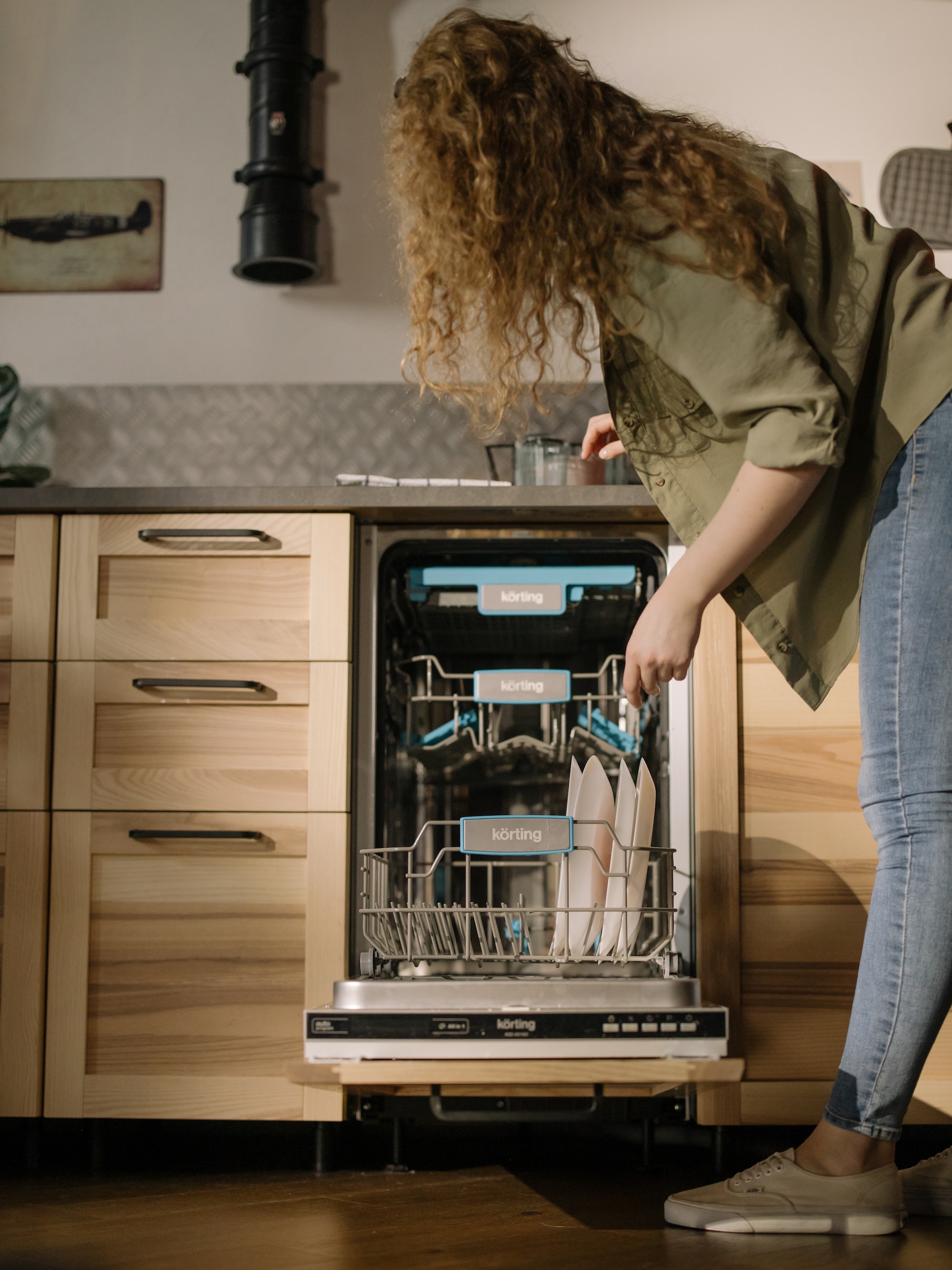 Dust the cabinets
Dirt and dust can settle on your kitchen cabinets. First, remove everything from your cabinets and wipe the dirt and dust from the shelves. Use a brush to clean the nooks and crannies in your cabinets. Follow it with a cloth dampened in warm, soapy water, then dry it with a microfiber one. Make sure to clean from top to bottom so that you don't need to re-clean shelves again.
Get open counters gleaming
The open counters and countertops in your kitchen can get dirty quickly. If you find grout on it, you can apply a paste of one-half cup baking soda and one-quarter cup hydrogen peroxide. Scrub gently and wipe to remove it afterward. Also, clean the jars, dishes, or any other thing you keep on these counters. If you use readymade cleaning agents, make sure that those can be used on the counter surface you have.
If you always keep your windows open or your countertops attract dirt, you can use a dirt-repellent spray by mixing 2 cups of water, 1 cup of vinegar, 2 tablespoons of olive oil, and 1-2 drops of dish soap. Spray this mixture all over your counters.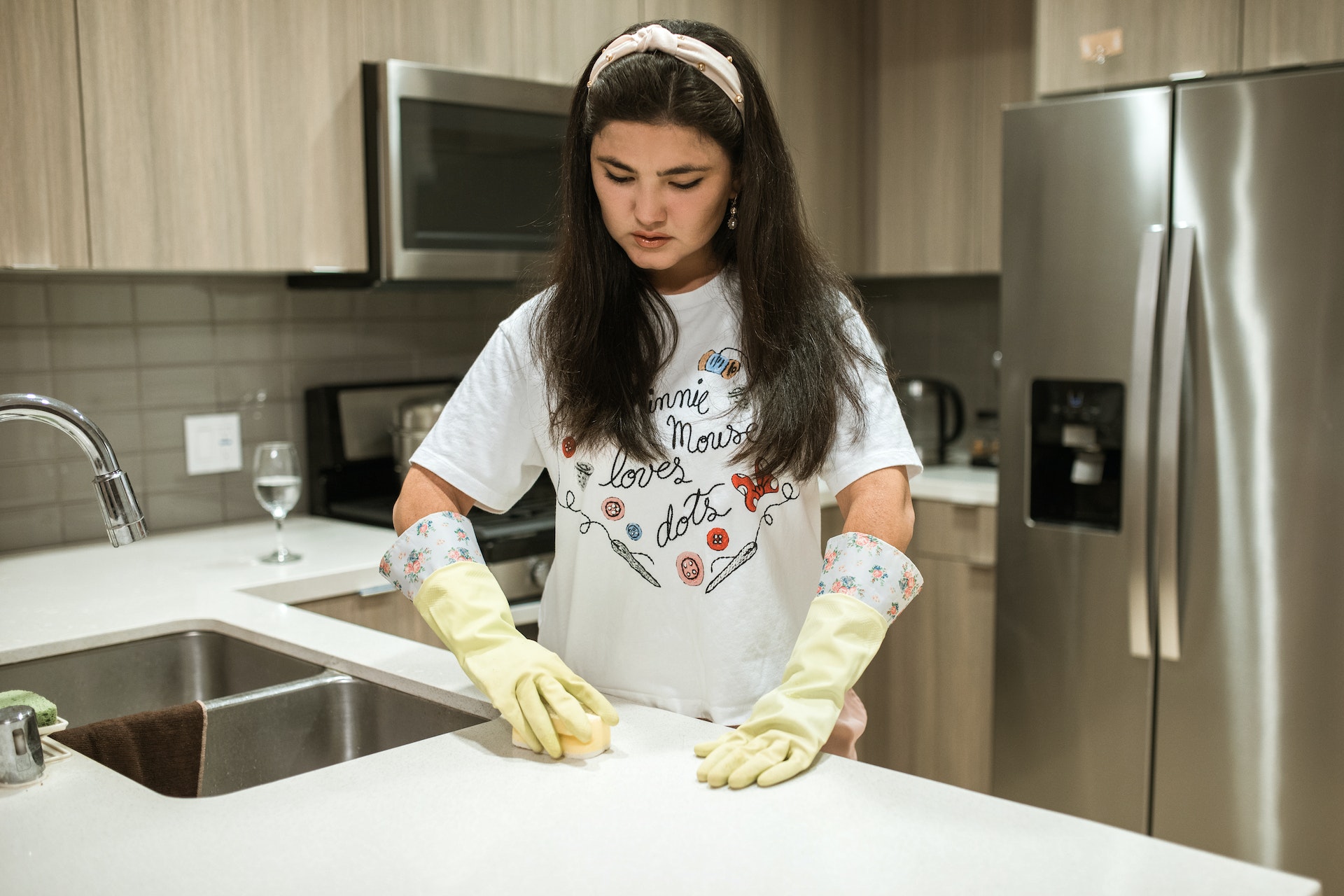 Get your pots and pans polished
To add shine to your pots and pans, follow these cleaning tips:
Copper: Mix lemon juice and salt in equal parts to get rid of any tarnish
Stainless steel: Fill the vessel with water and add a few drops of dish soap. Let the water boil for 5-10 minutes. This will get rid of hard water stains or any scorch marks. You can wash as usual later.
Aluminum: Either use a mix of dish soap and water or vinegar and water to give the utensil a shine.
Burnt pots: Fill the pot with water and add a little bit of baking soda to it. Let it simmer for half an hour. Clean it as usual afterward.
Clean the garbage disposal can
Start by taking out the trash if it's full. Next, vacuum any crumbs or dry waste from the can. Wipe and clean it or pour boiling water in the disposal can to get rid of any bacteria growth. You can even use a disinfectant to sanitize the can. Add citrus peels or baking soda to the can to neutralize the odor.
Sweep, vacuum, and mop the floor
Now that you have cleaned everything in the kitchen don't miss out on the floors. Start by sweeping the kitchen floor with a broom to get rid of the larger debris and crumbs. Ensure you cover all the nooks, crannies, and areas under your fridge and oven. Follow up by vacuuming the floor to get rid of any fine dirt and dust. Next, mop the floor to get rid of any stains. While mopping, always mop around the edges first and then move to the middle of the floor. Always wash the mop in a bucket if it gets dirty otherwise, you'll spread dirt around instead of removing it.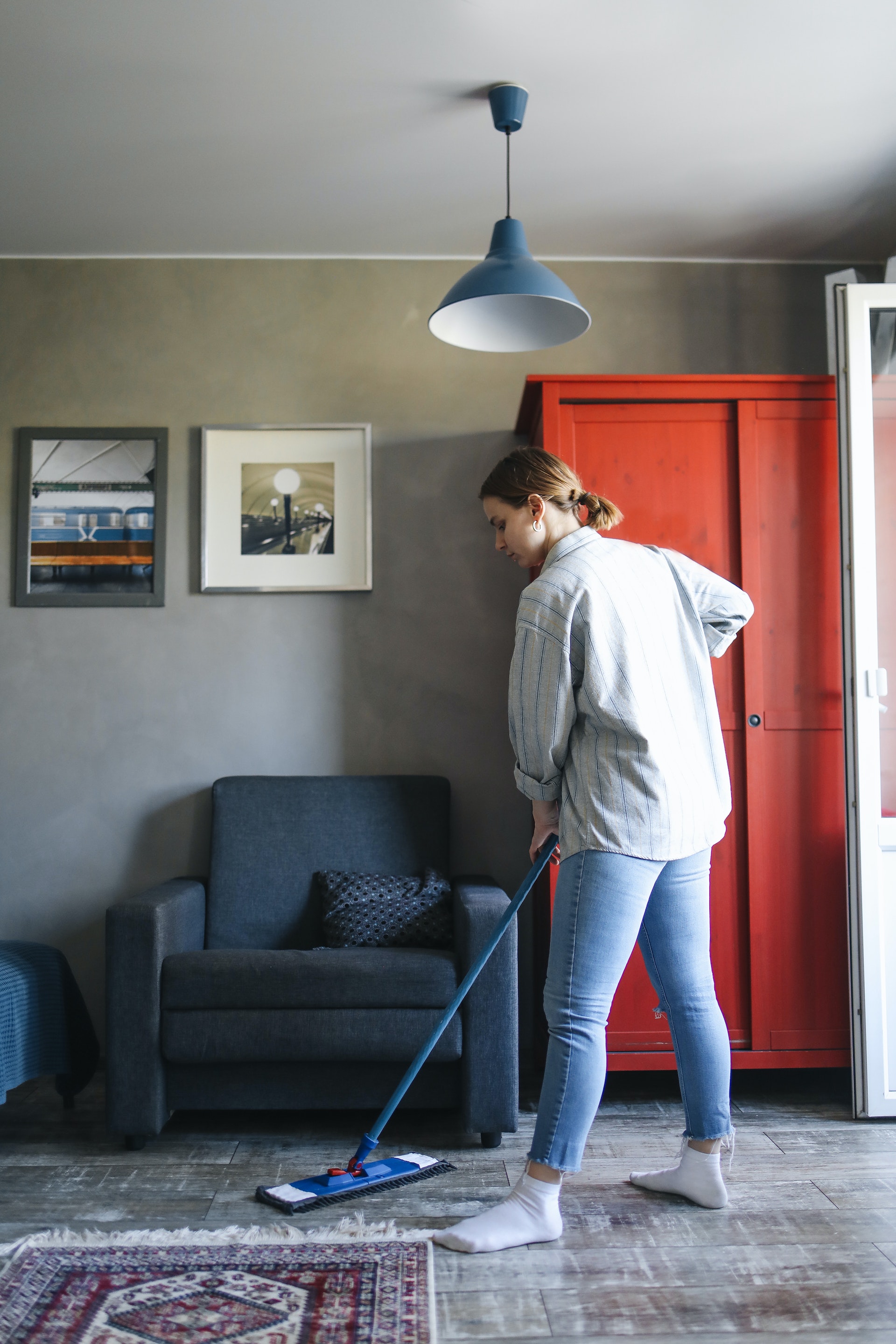 If you want deep cleaning…
You may be a working professional juggling too many responsibilities or too occupied with something else. That can make you procrastinate on your cleaning duties around the home. If that is the case and you need someone to deep clean your kitchen or your entire home, you can contact Homero. We have a team of cleaning professionals who follow our cleaning checklist and guidelines to make your house spotless in no time.
Get in touch with us to avail an exclusive discount on your first cleaning appointment.