Moving is one such experience that we all need to face at least once in life.
But even thinking about it can bring on so much stress.
How would I get everything packed in just a week? What if some important furniture accessory gets broken while moving? What if my partner forgets to label his items and we can't find them in our new home?
There may be a hundred more stressful questions on your mind right now. Worry not! You've hit a jackpot. We bring to you 11 simple yet effective moving and packing tips that will make your move a breeze.
1. Make a game plan
Once you know you need to move, start planning. Start by figuring out how you will schedule packing everything. For example, Monday: pack kitchen utensils, Tuesday: pack living room furniture, and so on. This will ensure nothing gets left out and if you're a working professional, you can distribute all your packing work without feeling overwhelmed. This plan can also consist of how you would unpack everything at your new house.
2. Do a decluttering drive
That coat that's been lying in your closet for six months now or that coffee machine you bought but hardly ever use, thanks to Starbucks, are things you need to get rid of. Why carry over all the unnecessary items to your new house when you're just not going to use them? And bingo, less things to pack too!
Organize a decluttering drive and figure out which items to toss, keep, sell or donate.
What if there are some items that don't fall into any of these lists?
One mover carried out a great plan for such items. They put them on a free table and invited their friends to a goodbye party. They made use of all the opened stuff in the kitchen and the wine and beer they didn't want to take to their new house. At the end, they invited each guest to take whatever they liked from the free table.
3. Label your boxes
There's nothing worse than opening 10 boxes to find that one thing you need. Labeling boxes may take you some time initially but it'll also save you a lot of time later on. Here are some labeling tips you can make use of:
Give each room a color. For example, yellow for the kitchen. All the boxes with yellow colored tape will have kitchen items. In your new place, stick yellow tape to mark entrance to the kitchen so movers know which boxes to shift there. You can do this for all your rooms.
Have symbols and descriptions on the labels. For example, "K" stands for kitchen. Under that symbol, give a description like "pans, bottles, and cutlery"
Label boxes on the sides, not the top, as the top may be covered with other boxes.
Give a number to your boxes so that you can know the total number of boxes that need to be moved and if one goes missing.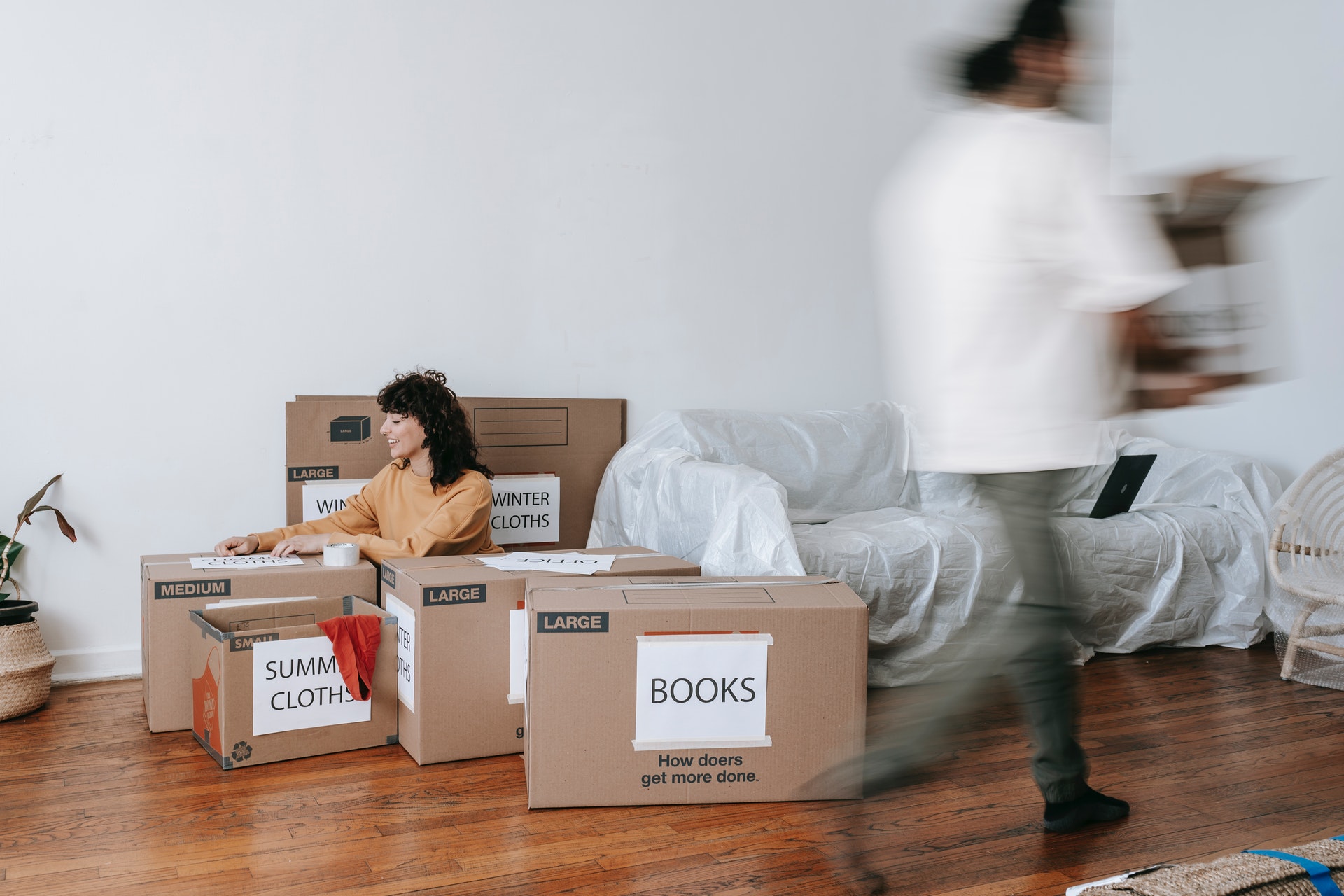 4. Get quality boxes
You may want to buy quality boxes that are durable. Imagine you are moving a box into your house and it falls apart in your hand. Not an ideal scenario, right?
If you don't want to buy boxes for everything, you can have quality boxes for breakable items and then go to local businesses in the neighborhood and check if they have boxes they need to get rid of for all those items that don't require sturdy packaging.
5. Take pictures of your electronic items
You may be tempted to remove all those cords from your electronics fast and just pack your television or your PC. But if you're someone in the family who is always accused of getting the wires wrong, you might want to take pictures of the configuration to know which cord goes where. This will help you get everything connected at your new house easily.
6. Pack essentials in a different box
Let's suppose you shifted in your new house in the evening and you didn't get time to unpack everything. Come morning and you're searching all over the house for that one box that carries all your toiletries and other essentials. Imagine having to go over all the boxes after a hectic day of moving.
To avoid this, pack all your essentials in either a transparent bag that you can carry around or have a separate box for it that is labeled essentials with a color-coded sticker of your room so that you can get started with your routine.
7. Get your packing right
Here are some packing tips you can follow:
Pack heavy items like books in small boxes and lighter items in larger boxes so that it's easy for movers to pack and organize boxes.
The heavier items should be at the bottom of the box followed by lighter ones at the top.
Breakable items like crockery or glass frames should be packed using bubble wrap, bunched-up paper, or quilted blanket to provide enough cushion.
Cover the tops of toiletry bottles such as shampoos with Saran wrap or plastic so that the liquid doesn't spill over in the boxes.
Pack dishes vertically instead of horizontally in a box and fill the empty spaces with bubble wrap to prevent them from breaking.
Don't leave empty spaces in boxes. Fill them with paper or bubble wrap so that things don't move around in the box.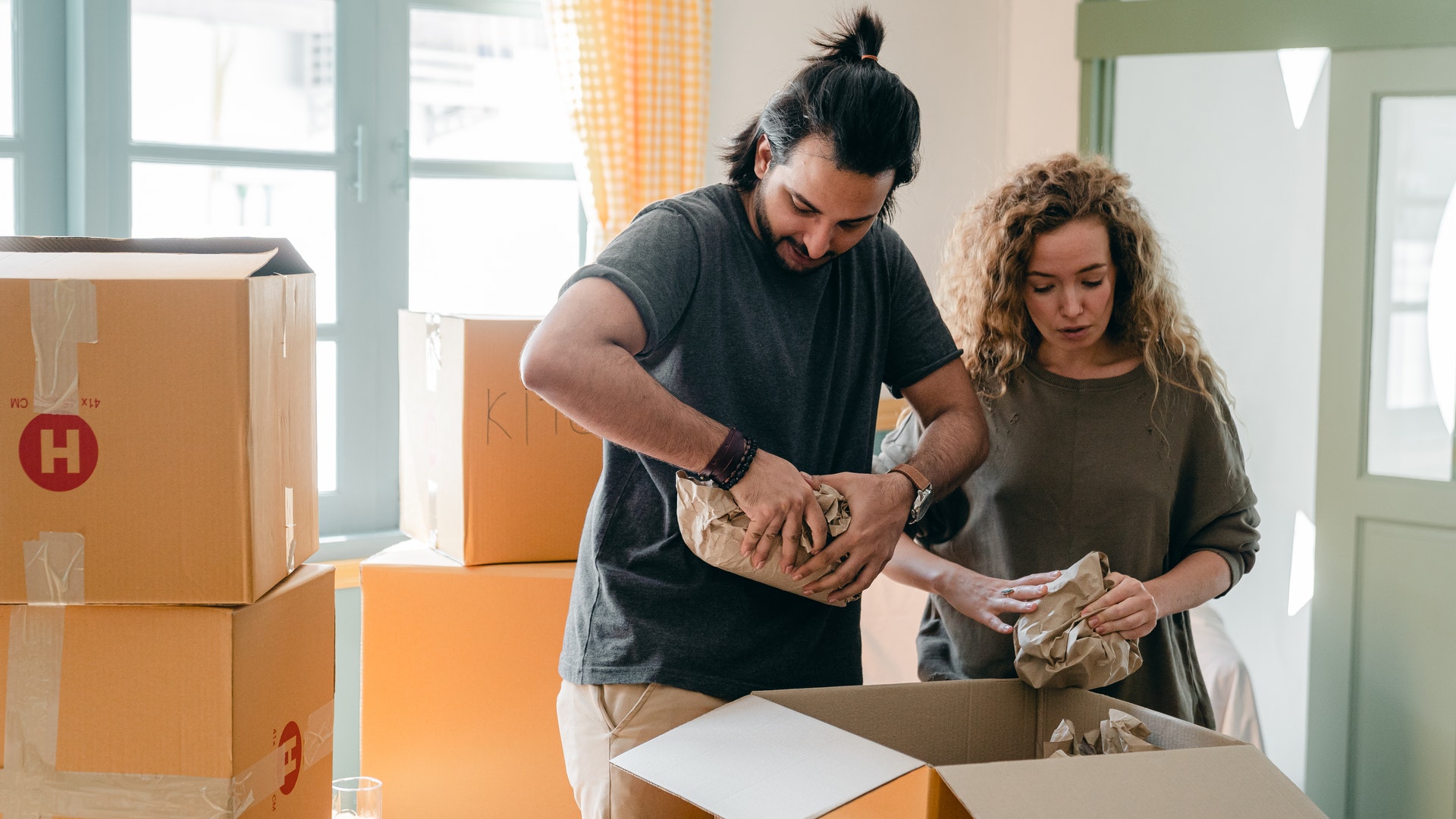 8. Create an inventory list
This might seem like extra work but it's the perfect way to make sure nothing gets missed or stolen during the move. This inventory list will contain the number of each box, a brief description of the items in the box, and the room in which the box should be moved. Create two columns beside it where you can put a tick-mark when that box is loaded into the truck and unloaded into your new home so that nothing goes missing and if it does, you know exactly which box it was right away.
Your inventory list could look like this:

9. Don't pack certain items with other household things
Some items in your house may be hazardous so it is best to pack and move them separately. Tools, chemicals, and painting equipment should be packed separately. Medications should be tightly closed and put safely in a box. Other items that you need to pack separately are fire extinguisher, paints and varnishes, ammonia, auto batteries, and heating agents such as Sterno.
10. Hire a professional mover
Hiring a professional mover will take most of your worries away. They'll ensure all the loading and unloading takes place in a secure way so that nothing gets damaged or broken.
These professionals will take care of everything from how to unload things and how to take the best possible route.
11. Recover your rental deposit
Moving homes in New York is stressful enough. A professional cleaning service will make sure your property is all cleaned up and in good condition so that it's ready for sale or rental inspection.
If you're looking for a great cleaning company, look no further. Homero prides itself on giving you a professional moving cleaning service that ensures you do not have to take too much stress when it comes to shifting to a new home.
Get in touch with us today to know more about our Moving out cleaning services.